Peacenet

This poster promoting the font that I made, I named the font Peacnet. Which is inspired by fishing rod.

Calm feelings and toughts.

I use more exploration in this poster to symbolize the calm that is gained from waves on the ocean. Peacenet is a combination of words from peace and fish net, which means peace obtained from fishing.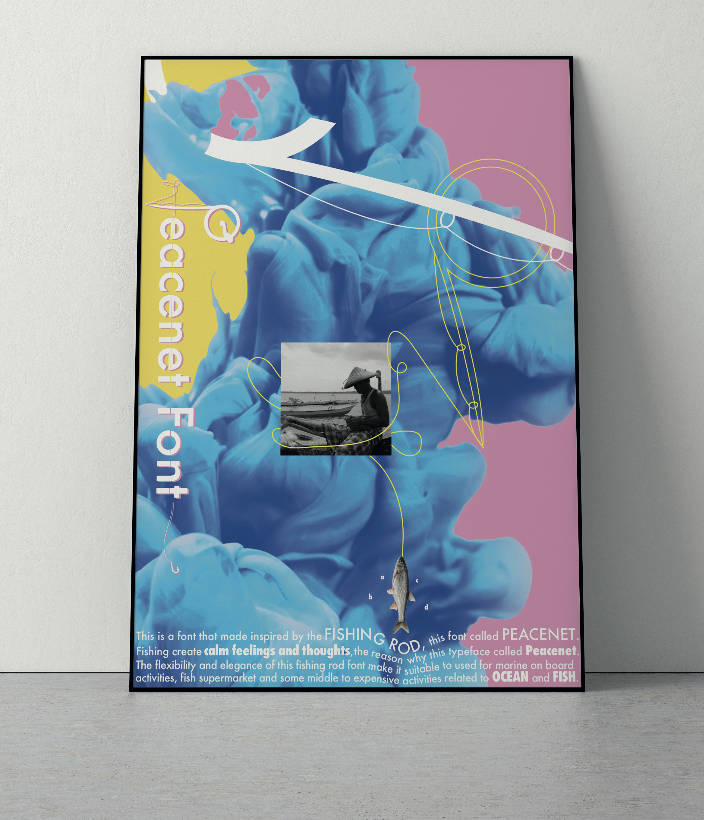 Speech and design competition

Speech and design competition at Taman Ismail Marzuki with theme "The Voice of Future Leaders of Indonesia". They are helding art and design exhibition and music demo at 15 November 2018 from 09.00 am until 15:00 pm.

They are targeting children for this competi- tion, so I make a colorful poster with a cute monster as the mascot to catch their attention.

Blue here represents education while yellow is intelli- gence. This two colour very suitable for poster competitions, also attracts attention.

The concept of this poster is the monster who is speech on the stage using a microphone that is represented using a pencil, while pencil also symbolize design competition. I made the mascot looks confi- dence on the poster to foster self-confidence of the children who will participate in this competition.


Belitung island tour guide

This brochure is made for families and prioritizes efficiency so they can tour there without using a country tour that will spend more money.

Using bright colours because they are in accordance with Bangka Belitung, the average tour is island hopping, and they are very rich in the beauty of the island and its sea creatures.


Absolut vodka mandrin

The concept of absolute vodka mandrin advertising is to highlight the new flavor, which is mandarin oranges flavor, because people know already about the brand of absolut vodka.

The message that conveyed through this poster is the coolness and freshness obtained after drinking this absolute mandrin orange vodka flavor, as well as a bit of a funny sarcastic tagline so people will continue to remember this poster.

Concept - fresh, clean, simple, to the point, catchy tagline.