Personal Branding
It's all about imagination. Just like humans in general, I like to fantasize, trapped in my own mind, floating in space. But I'm different from others, when they feel that their imagination is just that, I try to make it happen.I like making something innovative and interactive that sometimes is deemed impossible to others. The element I used in my self branding is discovering many different galaxies that exist in my imagination, and make it real.
Barnum

Branding project for bar in Jakarta Selatan.

Home of the freaks This bar which also brunch has a circus theme freak show in the 80's.Use this theme to attract theattention of South Jakarta teenagers as the target marketwith a quirky style that likes unique places. Red and yellowgive a sense of fun and pleasure. adjusting the brief fromclients who like circus and coney island, the collage that I made shows a unique and there is a 80's circus story that shows in the collage. Also the logo which is adapted from the circus theme but still looks like a bar.


Kuendes

The concept is Time Travel & Knowledge in Every Bite. Young adults of the time are known to cherish the taste of their tradition, habit of eating traditional cakes are long gone.

To establish our old traditions to the youth of today, I creating a modern efficient packaging and enviromantally friendly. The spoon can used by ripping the ears of the packaging and for the brown sugar I use gelatin, just popped the gelatin and when the brown sugar comes out the gelatin will be dissapear.

Traditional cake modern look.





Kuendes targets teenagers who have forgotten traditional cakes. Kuendes wants to revive the almost extinct Indonesian culture.

This Instagram made using gradients, typography games, and illustrations. The move- ment is more inclined towards teenagers because most of the target market are also mostly social media users. But still use the same color palette as the packaging.



Pialetta

This packaging is made for Bakpia Jogja who still very inefficient and does not protect the bakpia itself.

Traditional bakpia modern taste

Make a big change that can advance the sales of Yo- gyakarta bakpia, to reach the level of foreign countries. Adding the bakpia history inside the packaging to let people know the history of the bakpia with interesting visual.


Dino's Galactic Adventure

Interactive bookshelf for public library in Taman Ismail Marzuki that was made to attract children attention. Created like a big book that displays children best book of the week. This installa- tion was aimed to reduce the second lowest reading rate in Indonesia over the world, with the theme "Reading from early age" for this installation.

This book is equipped with interesting copywriting for children through this installation children can develop their imagination including cartoon images for the cover themed "Dinosaurs roaming the galaxy".




This promotional media amis to promote the public library in Taman Ismail Marzuki because many people don't know about this library.

The concept of this promotional media that uses glass, to attract parents when passing by the highway. They will be interested and invite their children to go to the library and read books there. Created invisibility and in the middle of the city so that it can follow the color of the sky.


Pop Out Photography

Concept - editorial fashion photography inspired by pop art movement.
Materials - face paint, photo background, outfit, models.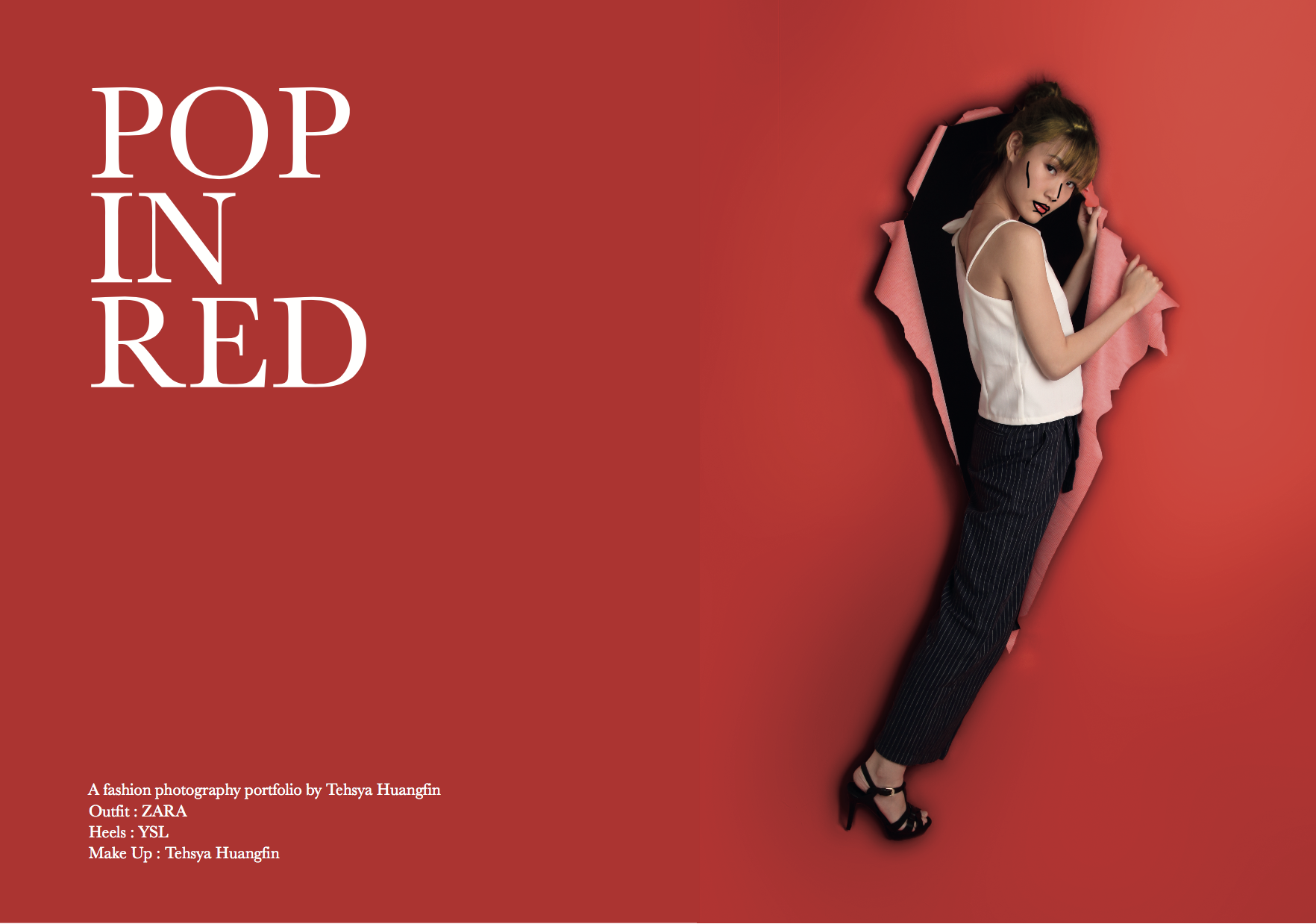 Mural Project

Concept - drawn for music and business learning centre using jazz themes, which use formal clothes to symbolize business.


Bauhaus

Bauhaus movement is aimed to encourage artists and craftsmen to work together and combine all their skills, to increase the stats of crafts into the same level with pure art, and they prioritize simplicity.

Bauhaus literally translates from "construction house"
Bauhaus is famous for both its unique aesthetic that combines arts architec- ture, sculpture and painting with crafts and engineering. It was the general objective that would combine aesthetics with function. Bauhaus was regarded as something completely new back then, as well as its enduring influence on modern and contemporary art. Bauhaus was regarded as something completely new back then, as well as its endur- ing influence on modern and contemporary art.

Contents - about bauhaus, what is bauhaus, history, and the person who developed bauhaus movement.


Defining typographyin pop art

This box contains merchandise about typography branding that we make. Which if when its opened each side will pop.

Above the lid, there is a book about typography, and on the side of the box there is a picture of pop art designers.

This book contains types of typography, letter anatomy, and grids. Which is very useful for typography, placement for hierarchies, and creating a layout.

Content insidethe book

From a descriptive and simplistic point-of-view, typography is the art and technique of arranging type.

Most people never think about typography. They don't under- stand the psychological effect it has in relation to conveying a message.

Typography is 95% of design – it's a driving force in all forms of communication art. Can you imagine reading a magazine, checking out a website, playing with an app or watching TV without text?